Talented Taranaki musician Susanne Taylor recently held a charity concert in loving memory of her late husband Sean Taylor, who passed away 22 years ago from melanoma.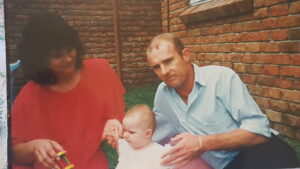 To commemorate what would have been Sean's 60th birthday, Susanne (who performed under her brand name Serendipity) kindly donated all the proceeds ($1,700) from her concert to Melanoma New Zealand.
Susanne and Sean have a beautiful love story. The couple met during the Summer of 1995 at a holiday resort where they were both staying in Bushveld, in a small town in Southern Africa. Sean had been working nearby and heard through the local grapevine that Susanne was single, so he tracked down her chalet at the resort and bravely knocked on her door.
When Susanne heard the knock on her door, she assumed it would be a staff member from the resort. So, when opened the door, she was shocked to see Sean standing there and was even more surprised after he introduced himself and nervously said, "Hi, I am Sean Taylor… Will you marry me?" Susanne said a lot of nervous laughter followed before she agreed to go out with him that evening. 
"The next morning, he arrived with camping gear outside my chalet at 6am and cooked me a full English breakfast."
The couple married just a few months later and had a beautiful daughter in 1996, who was just four years old when Sean passed away at the age of 38.
In December, to mark Sean's anniversary, Susanne released a deeply personal song about the first Christmas without Sean, 'Christmas without you' by SuziT.
We are honoured to share their story and to have been included in the commemoration of Sean's life.