Protect your skin all year round.
We aim to save lives every day by raising awareness about melanoma prevention and early detection.
"I now check my moles like crazy"
Christchurch resident Alyssa Sherriff was 27 years old, and newly pregnant with her second child Louis, when she found out last year that she had a melanoma on her face.
I'd had this particular mole for about 5 years, but because it was on the back of my leg it was hard to see, and I didn't realise that it had changed.  Gill probably saved my life that day; as Ryman's charity of the year, the Melanoma New Zealand Spot Check Van had been visiting the retirement village where David and I live, however, neither of us had planned to go and have a free spot check that day.  
Make an appointment with our Nurse Educator.
Nurse Sue Bibby is here to help you with your questions and make things feel a little clearer.
We champion melanoma prevention, detection and patient care for all New Zealanders.
If melanoma is caught and treated early enough, it is almost always curable.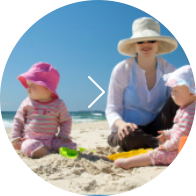 There are more than 6,000 diagnoses of melanoma in New Zealand every year. More people die from skin cancer than on our roads. It doesn't have to be this way.
We also provide valuable education empowering people to look after the skin they are in.
Subscribe to Spot News, our free quarterly newsletter, below: